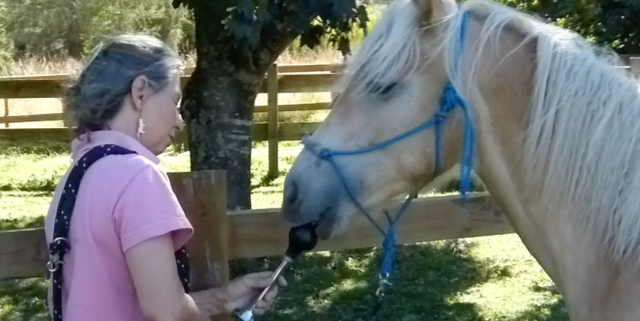 I am Alfie.
I live in Pearse Valley, Motueka.
My human is Janice, She says I am the best birthday present she ever had.
My job right now is just to be a 'kid' and make everyone laugh. When I grow up Janice says I will be an all rounder. She says I am a real 'mountain pony' and not spooky at all. Janice says Barry will like riding me too since I am so solid in every way.
What I like is being with people. They do interesting things. I love my toy box full of balls and horns and things to play with with my mouth and body. My most fun thing is going out to the forest with the rest of the family herd and running free. Sometimes I find juicy grass and lag behind and then my half-sister Maya has to come get me with Janice and then it's Maya's job to keep me in line.
I like to jump, and have already jumped 1.2 metres a number of times. Now there is a higher fence so I have to stay where I am supposed to be. Jumping is fun. Life is fun!  I have a natural parade 'prance' and like to strut my stuff. Here I am learning to toot my horn.
It really bugs me if people try to make me do things, but I am really good when they ask me nicely.  Janice is good at making things fun.